Here is  one way to assess your ability to learn languages.
Many people talk about the difficulty of the language.
A far more important measure is how you are going about learning!
Your success has little to do with your innate ability.
We already have proved we have that by learning the most difficult language of them all, our first.
Your success has everything to do with what you are doing and not doing in your learning.
This little tool will enable you to measure your chances of success*
http://goo.gl/forms/VtCVyp79le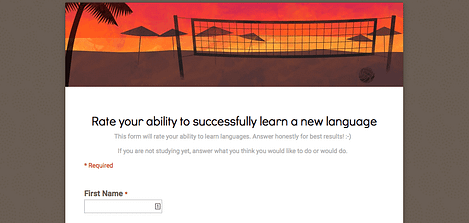 Once you get a rating, leave a comment below to see how effective the rating is! 🙂 
* Please do note that this tool will make you think about what you are doing. However humans are complex beings so it is difficult to say that one method will not work for anyone. We can say though that some methods will more likely work for most people and produce the kind of results you are seeking.
So don't take to heart the rating you are given. However do use it to prompt you to reflect on what it is you are doing. That can only be good! 🙂